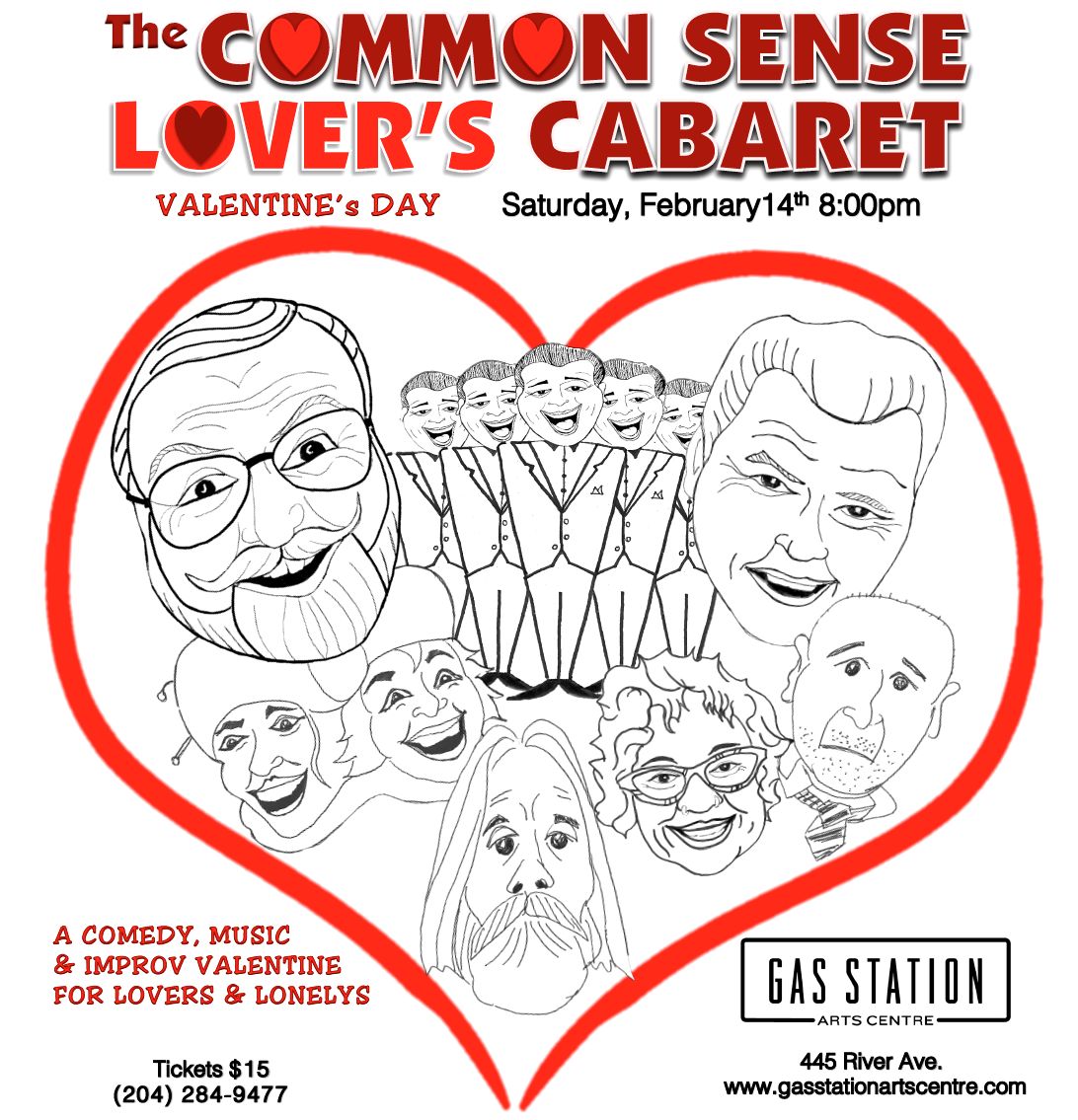 We're doing it again! Just for the LOVE!
The Common Sense LOVER'S Cabaret on VALENTINE'S DAY.
A COMEDY, MUSIC & IMPROV VALENTINE for Lover's and Lonelys
It'll be Funny AND Romantic!
At The Gas Station Arts Centre 445 River Ave.

Valentine's Day  Saturday February 14th at 8:00pm
The

Common Sense LOVER'S Cabaret

is a live variety show. It's an entertaining mix of comedy and music with some improv, video and oddball novelty acts thrown in.
The jokes will be funny and the music will be good and there will be
NO Artsy Fartsy BULLSH*T!
 WARNING: Your sides may split! And you might fall in love!
Local celebrity has-been, Joseph Common, (played by John B. Lowe) hosts the entertaining evening supported by his extended family of entertainers including his naïve nephew, Little Joe, (Cory Wojcik), his stumblebum buddy, Stinky Pete (Peter Moon) and the Valentines of Variety; Honey T & Ginger (Scott & Yanin Cranwill).
Music direction is by Süss, performing with Glen & Wendy.
The Macho Poo-Poo Choir is also scheduled to perform. There will be Improv from The Stephen McIntyre Experience. Some great comedy from Fraz Wiest, Lee White, Ryan Ash and comedy videos from Broccolo Creative, The Ken and Tim Channel and Tiny Plastic Men along with many many more performers and guests. 
Our Stage Manager is Michelle Lagasse.
PHOTO GALLERY