March 16, 2014
A COMEDY, MUSIC & IMPROV SMORGASBORD
The jokes were funny & the music was good.
Interesting people did interesting things.
There was no Artsy-Fartsy bullshit.
(but a wee touch of the blarney)
The Common Sense SHAMROCK Cabaret was an evening of comedy and music  with a slight hint of an IRISH theme.
The show was a live variety show in two acts modelled after TV Variety shows of the 60s and 70s. The Common Sense Cabaret was an entertaining mix of sketch comedy and music with some improv and a few novelty acts thrown in.
The host was the old-school, has-been, local celebrity, Joseph Common, (played by John B. Lowe) Joseph was reluctantly supported by his extended family of entertainers.  The Macho Poo-Poo choir also performed. With video sketches from TIny Plastic Men.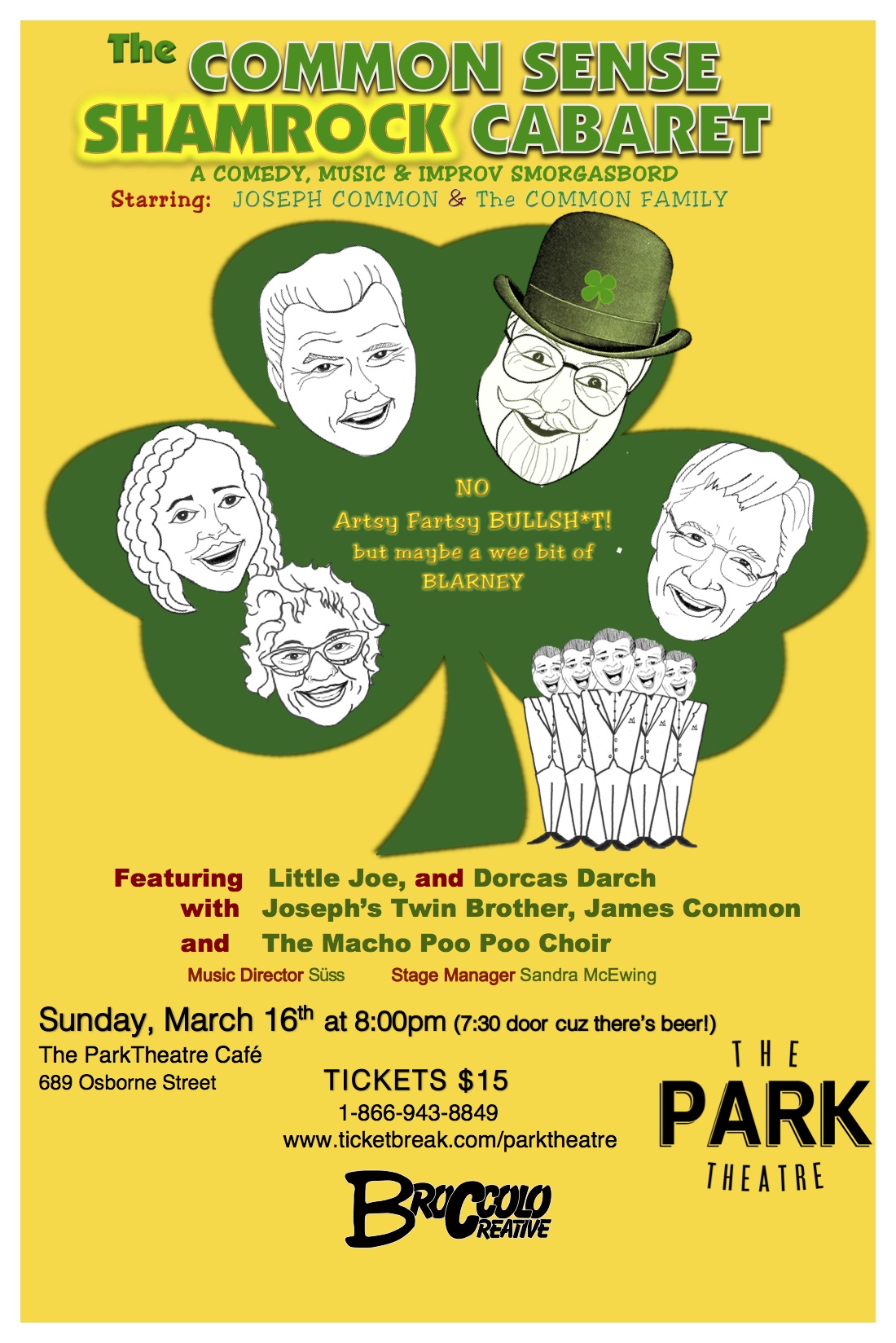 Broccolo Creative would like to offer big THANK YOU to:
Our Music director, Süss,
Performers, John B. Lowe, Randy Apostle, Cory Wojcik
Real-live Leprechaun, Peter Nadolny -Moon
Dreamy Musician, Justin LaCroix and his guest Gillian Moon
The Library Lady, Rebecca Benson
The Blarney Babes, Megan McArton and Melanie Whyte
Comedians, Matt Falk, Chantel Marostica & Heather  Witherden
Improvising Impresario, Stephen McIntyre
Clown, Ardyth Johnson
Irish Storyteller, Brian  Richardson
Two Hymns and a Her,
Scott Cranwill, Tim Cranwill and Yanin Cranwill
The Macho Poo Poo Choir,
Cory Wojcik
Rod Beilfuss
Eric Blais
Ray Strachan
Jeff Strome
Randy Apostle,
Peter Nadolny -Moon
A Very Special thank you to our stage management team,
Sandra McEwing, Michelle Lagasse and Meg Fergusson.
Amazing photographer, Leif Norman http://www.leifnorman.net/
Our Front of house volunteers,
Eva Lowe, Cindy Soulsby and Louise Horst
Also thanks to the Park Theatre for their hospitality,
especially Erick Casselman and Matt  Mayor