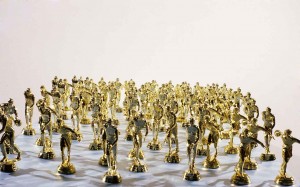 SMALL BALLS – Synopsis
written by John B. Lowe
Small Balls is a feature length comedy with a small ensemble cast of quirky characters. It's set in just a few locations in and around Rocky Bottom, Manitoba but could happen in any Canadian small town.
Jerry Short is a gormless, middle-aged labourer who supports his widowed, shut-in, mother in a cruddy house in Rocky Bottom, Manitoba. On the day of his 46th birthday, Jerry realizes he's the same age his father was when he died. That morning, Jerry sinks his dad's old motorboat in the same lake where his father drowned, 30 years ago.
Jerry celebrates his birthday alone and watches 5-pin bowling on late night TV. He remembers that the only  time he was truly happy was when he was a teenaged 5-pin bowling champion. His father was his coach.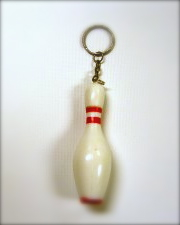 Newly inspired to climb out of his 30-year old rut, Jerry returns to the run-down Rocky Bottom Bowlarama , to regain his past glory as a 5-pin bowling champion.
Jerry's mid-life quest to find confidence and competition is haunted by faded film footage of his father as an amateur theatre Don Quixote. But before Jerry can become a champion, he has to learn how to bowl again. And in the end, Jerry discovers that bowling is just like dancing.