Christmas is coming and the TV is full of Christmas Movies.  Broccolo Creative's John B. Lowe appears in supporting or principal roles in several of these Holiday Movies.
A DREAM OF CHRISTMAS (2016)  A restless young married woman is granted a wish by a Christmas Angel to be single again, she soon discovers her new life isn't what she bargained for, and embarks on a quest to win her husband back.
Sunday December 3                7:00 AM c      HALLMARK
THE ULTIMATE CHRISTMAS PRESENT (2000)  A girl steals a weather machine from Santa Claus, to make a snow day.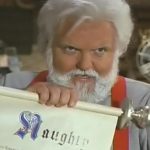 The machine breaks, and causes an out-of-control snowstorm.
Sunday December 3                5:00 PM c       DISNEY CHANNEL
LUCKY CHRISTMAS (2011)  A single mom trying to get back on her feet, learns her winning lottery ticket is in the glove compartment of her recently stolen car.
Saturday December 9              6:00 AM c      HALLMARK
THE CHRISTMAS HEART (2012) The tight-knit neighbors on Arthur Avenue have proudly lit Christmas luminaries for 40 years, but that long-standing tradition is cancelled when a boy in the neighborhood, is hospitalized in desperate need of a heart transplant.
Monday December 11            12:00 PM c     HALLMARK
SNOWED INN CHRISTMAS (2017) Jenna and Kevin are polar opposites working for the same online publication in New York City. A snowstorm forces their plane to land in a Christmas Wonderland in Santa Claus, Indiana.
Saturday December 16            8:00 PM c       LIFETIME
CHRISTMAS CONNECTION (2017)  Flight attendant Sydney looks after an unaccompanied minor, Leah, flying back to Chicago and makes an instant connection with her. After Leah is safely delivered to her father, Sydney gets invited to join in some fun, family Christmas festivities. Sydney misses her connection, and is stuck for a few days.
Sunday December 17             8:00 PM c       HALLMARK
SILENT NIGHT (2012)  The police force of a remote, mid-western town search for a killer Santa Claus, who is picking off citizens on Christmas Eve.  AVAILABLE ON DVD