Look at this incredible CAST of TALENTED PERFORMERS who will be making your ROMANTIC & FUN VALENTINE'S DAY evening FABULOUS.
If you're not already IN LOVE you will be after this!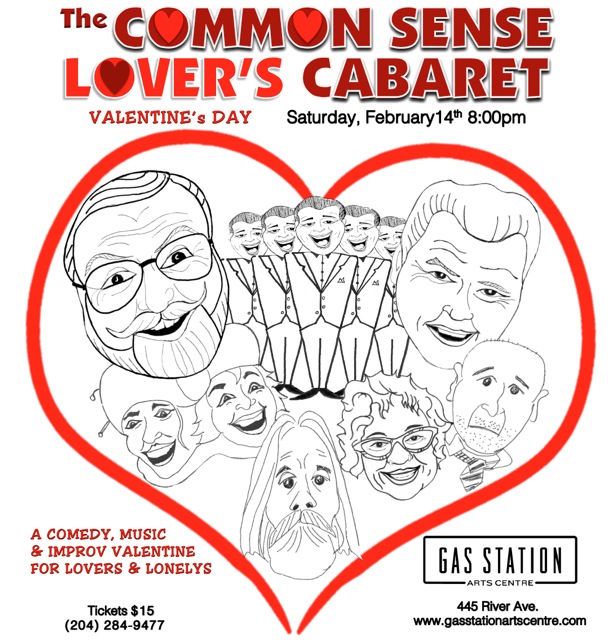 The Common Sense LOVER'S Cabaret is hosted by Joseph Common and Little Joe along with Mickey T & Ginger.
Our musicial director is Süss and she will be making fun and romantic music with Wendy Burdon and Glen Hagen with Ghislaine Allayne.
Doug Fuggin and The Macho Poo Poo Choir will also sing and you will be entertained by folks like: John B. Lowe, Cory Wojcik, Scott & Yanin Cranwill, Stephen McIntyre, Jeff Strome, Ryan Ash, Fraz Wiest, Lee White, Caitlin Curtis, Salty MacPherson, Duncan McGregor.
There are even some funny videos from Hot Thespian Action, The Ken & Tim Channel, Tiny Plastic Men and Broccolo Creative.
Join us on VALENTINE'S DAY at the GAS STATION ARTS CENTRE
WE'RE DOING IT FOR LOVE – YOU GET THE LAUGHS
https://www.facebook.com/events/920511567993980/?ref_newsfeed_story_type=regular