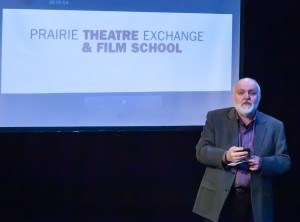 At the end of June, 2016, I left my position as School and Community Programs Director at Prairie Theatre Exchange.
I've thoroughly enjoyed my time at PTE School. I'm proud of the work I did at PTE School and grateful for the opportunity to be a part of this excellent arts organization. It's been a wonderful, rewarding decade.
While working at PTE, I was encouraged to maintain my acting and filmmaking career on a part-time basis. A number of theatre, film and TV opportunities have arisen that now require my full-time attention. I feel it's best to make room for someone new to lead PTE School into the future.
I look forward to my continuing association with PTE, as an instructor and theatre artist for many years to come. I'd like to thank my PTE colleagues for your collaboration and support. Thank you to the many amazing instructing artists who generously share their creative talents with PTE School.
A special thank you to the PTE School students, for allowing me to share your exploration of theatre, and film and witness the development and expression of your talent and creativity.
John B. Lowe
(FORMER) School and Community Programs Director
Prairie Theatre Exchange